Edit: Since this blog post went live we recieved the Audience Award for 30 Seconds Apart at this year's 48 Hour Film Project awards night. We're all very pleased with the result.
Last weekend Production Attic wrote, shot and edited a film in 48 hours as part of the Glasgow 48 Hour Film Project. We have since been asked a lot about our locations, props and kit for our film '30 Seconds Apart' as well as how we managed to cram so much into the shoot. Here's a monster blog post to try and answer everything.
If you haven't seen it yet check out the film below (this is a tidied up edit for submissions to other film festivals):
Firstly looking at all the entries at the screenings I was reminded now is a pretty cool time if you have hardly any cash but want to make films. What must have been a massive mistake by dSLR manufacturers leveled the playing field for low budget filmmakers allowing for progressive scan HD video on super cheap cameras. We shot entirely on a Canon 550D, pretty much the cheapest dSLR you can buy at around £400 and with a little bit of a grade I was really impressed with how it held up on the cinema screen at the GFT.
Most of the films seemed to have been shot on dSLR and watching them all really drove home the fact that it doesn't matter what camera you have as much as how you use it to tell a story. It also showed it's important to avoid a few recurring problems. Tendency to shoot everything at the shallowest depth of field, just because you can, meant landscape and wildlife shots in some films look beautiful but as soon as people appear the focus goes out. Even when the focus is kept when a whole film is shot like that it's unintentionally claustrophobic and hard to pay attention. We shot quite a lot of 30 Seconds on a wide 11-16mm lens. I was worried we shot too much wide and that the film would be too flat but in the end it worked out really well as everything was clear so there was no confusing blocking which could have been a big problem, especially in the final scene which had 5 actors and hardly any time to shoot. Also we had some awesome locations such as the creepy abandoned Odeon cinema on Renfield Street and it was good to be able to see them clearly in the background.
Stabilisation is also something not enough dSLR filmmakers seem to take into consideration. The jelly like effect caused by handheld wobble on a CMOS sensor just looks horrible. That's not to say you cant go 'handheld', just don't actually hold the camera in your hand. 30 Seconds was the first film we shot on a new camera rig but for the past year and a half we have been getting great results shooting short films, music videos, corporate videos, events and everything else by shoulder mounting cameras on tripods or holding tripod heads to add weight and remove the wobble effect. It can be cheap, easy and does the trick but it's something not enough people think about. Without stabilization films can be hard to watch and intentional camera moves can become confused and lose meaning.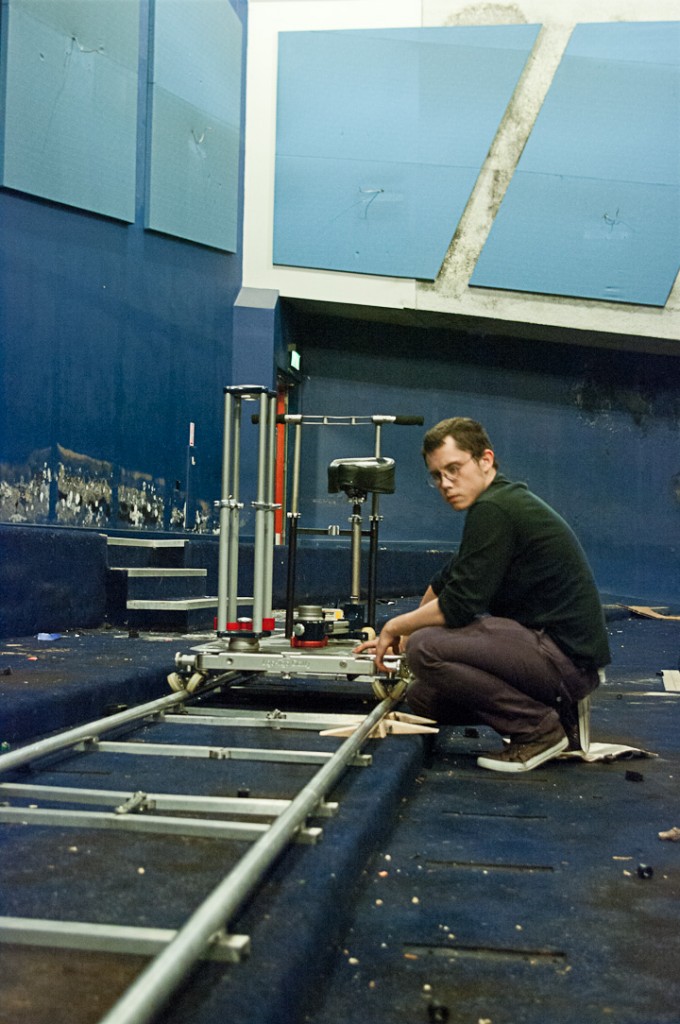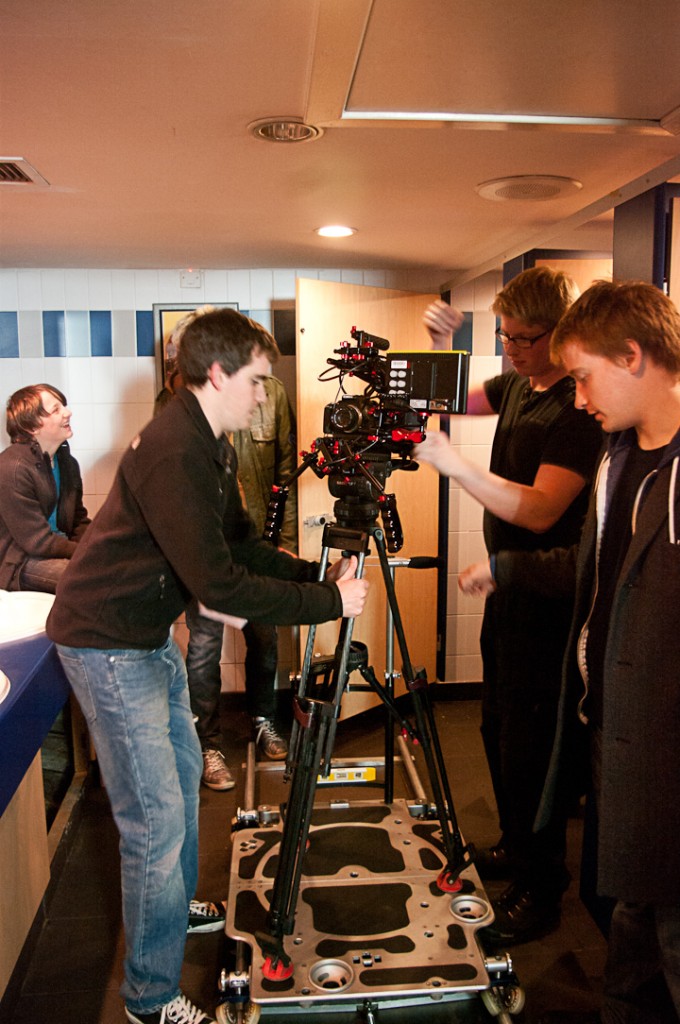 That leads me on to my next point. As well as now being a pretty cool time I think Glasgow is a pretty cool place to be. We thought a lot about how we wanted to move the camera in 30 Seconds so decided to make use of the 20% discount Progressive Broadcast Hire were offering for 48 Hour Films and rent a dolly and tracks. This was the first time we had used a dolly and I was really impressed with the results. Everything looked so damn cinematic! It also allowed us to make space really clear. So when Liam (Murdo Mitchell) leaves his dad (John 'Malky' Mitchell) to go play in the corridor, (and isn't that bloody depressing,) I wanted there to be no doubt that he is still very close by. A pan could have been awkward and a cut could have confused the space but a simple track backwards ensures we know exactly where they are in relation to each other and keeps the shot interesting.
We also rented some lights from Progressive to make sure we could actually see in the large cinema screens. With the discount the weekend rental was a really great deal, 2k blondes costing only £9.60 each, money well spent. After Progressive we took a trip to Hands On Production Services for some props. The cinema has sections where big chunks of the walls in some rooms and toilets have been knocked through to access older parts of the building and there are some offices with large safes so we were thinking on the Friday that a possible scenario for a drama, or comedy could be a bank heist. We picked up the police uniform, some guns and a smoke machine, which we never ended up using, in case we got any of those scenarios. We were also really hoping to get the horror genre because the location would have been perfect so we picked up the chainmail coat, hood and a creepy Spartan mask, also not used, in case we needed to make a monster character. I love visiting Hands On, it's like being a kid in a candy shop except the candy is guns and uniforms and suits of armor and smoke machines and things that go bang. Great people to visit and chat to and I know we got a better deal than we should have.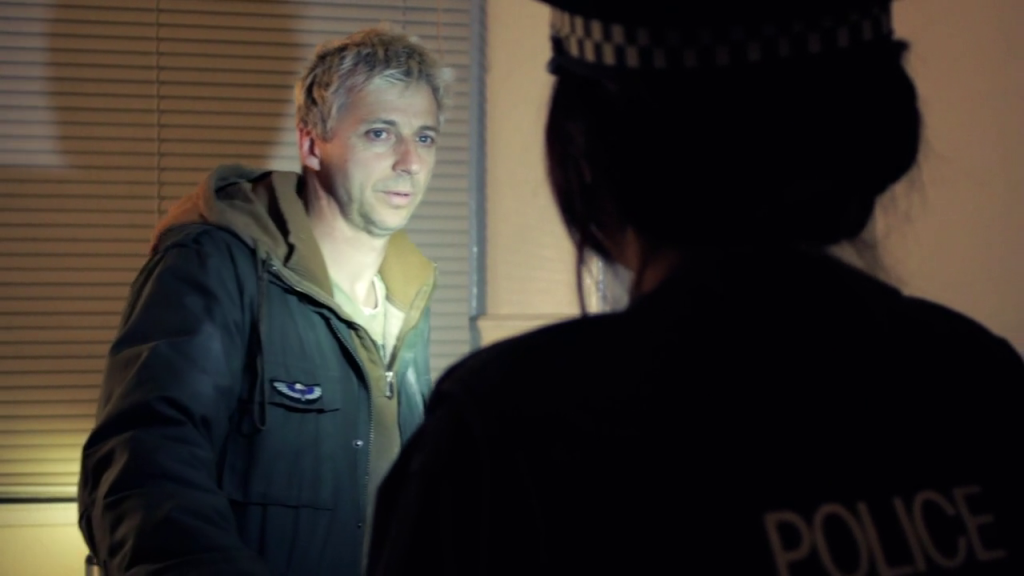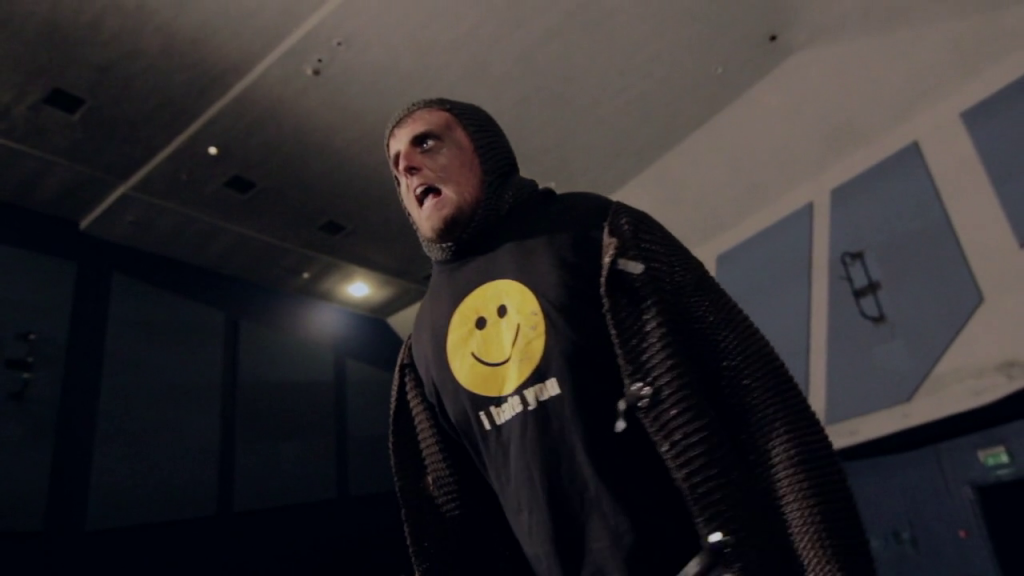 That's exactly why I think Glasgow is a cool place to be. There's plenty of TV shows and films being shot in our city and the facilities are all there to get the professionals the kit they need. These places don't exclusively rent to the pros and are generally very welcoming of low budget film-makers (note "low budget", not "no budget" and they do usually require you to have insurance.) If you need something get in touch with them and see what they have. The 48 Hour Film Project is great for putting filmmakers in touch with sponsors such as Progressive. Congratulations and thanks to Sam Goldblatt, the Glasgow and Edinburgh Producer, for getting them on board. If you work for or own a facility I haven't mentioned that Production Attic doesn't have an account with please say hi!
As well as getting our hands on professional kit we did a fair bit of bodging as anyone who read Darren's Chinaball Blog will know. If you haven't already, check it out. He built us an awesome boom light for about £25 which we used to fake lantern light and provide beautiful fill on close ups.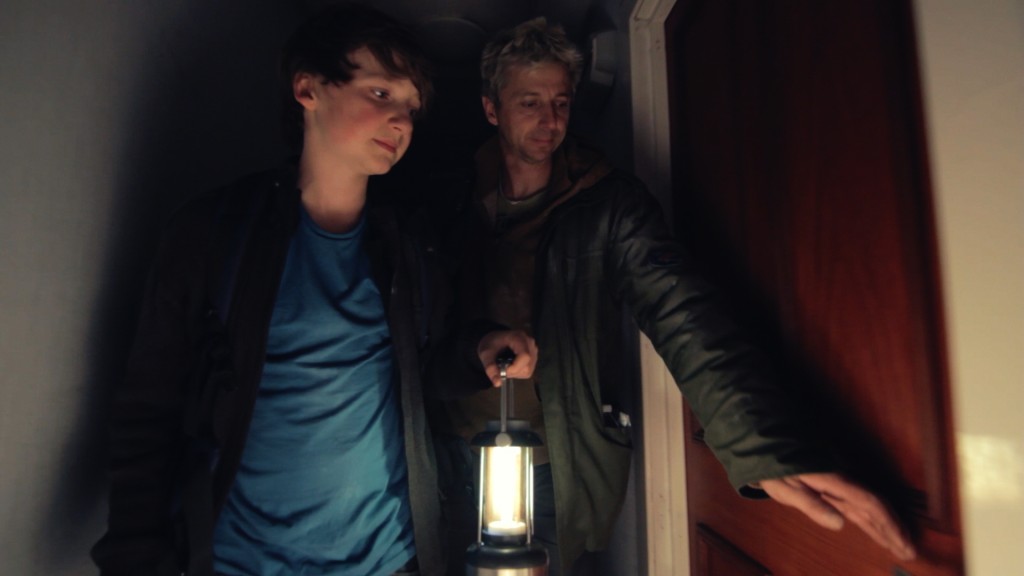 Well that's all the positives but one thing I don't like about filming in Glasgow is how difficult it can be to find locations. If you know a guy who knows a guy who's happy to turn a blind eye for a bottle of something nice that's great, but not so good when you need location release forms. Doing anything through official channels tends to mean a fortnight long email chain ending in a no or a hefty charge. We have found that the council, for example, want around £700 per day to shoot in abandoned buildings. That may be fine for a film intending to turn a profit but unfortunately the official channels don't tend to discriminate between those with the money and those without. That's not to say there aren't some very helpful and accommodating individuals within institutions like the council and universities who are more than happy to help so if you find one of them grab them and don't let them escape. And please give me their number.
You can bodge a camera rig, make cheap props look great, tease a performance out of non actors but you just can't fake that essential location. It can make or break a film. That's why we were incredibly lucky to be contacted in the fortnight before the shoot by a preservation trust trying to save the Odeon cinema and return it to a single screen cinema and theatre/museum rather than offices. They were looking to talk to anyone interested in film so we met and had a great tour. We chanced our luck and asked if we could come back to shoot our 48 hour film and thankfully they said yes. As I'm writing this Darren is out documenting some of the old parts of the cinema as well as another couple of sites to say thanks so hopefully we will have some interesting footage to put online soon.
Having such a downright cool location definitely made our film and also helped boost our crew's morale. We got a production assistant in the shape of my brother who might not have been too fussed to humph heavy kit around all day if he didn't get to run around an abandoned cinema!
So that was all before 7pm on Friday. Things got a lot more frantic once we got the genre, line, prop and character and set about making a time travel movie featuring a map, Captain Ramona Lewis and the line 'It's our little secret'. We rushed back to the office and started brainstorming ideas. Straight away we threw away a good dozen that were all more or less the plot of Looper.
We were nervous at first about time travel, mostly because we are all a bit sick of it from Revision, our student days web series, and wanted to steer well clear of twists and mad scifi elements which may leave an audience sad and confused. We knew we had a real life dad and son and Murdo, the son, is a great actor so we wanted him fairly prominent. This led to the decision to write a simple plot revolving around a father son relationship. Thankfully when we came up with the winning idea and started breaking the story we realised we were pretty lucky. Time travel allowed us to literally jump from one location to another so we got to use as much of the cinema as possible and keep up the pace of the film.
Friday night Andrew got to work writing a shooting script based on the ideas we broke. I worked on shotlists and ideas for blocking while Darren, our cinematographer, and Stephen, our production designer/grip, got a few hours practice in with the dolly. That gave us some ideas for shots. For example we noticed you got an interesting effect by putting one actor on the dolly and having them be pulled by another. This became the opening shot reverse shot of the dad dragging the son. We also shot some test plates of the map graphic and time travel effect for James, our awesome effects guy.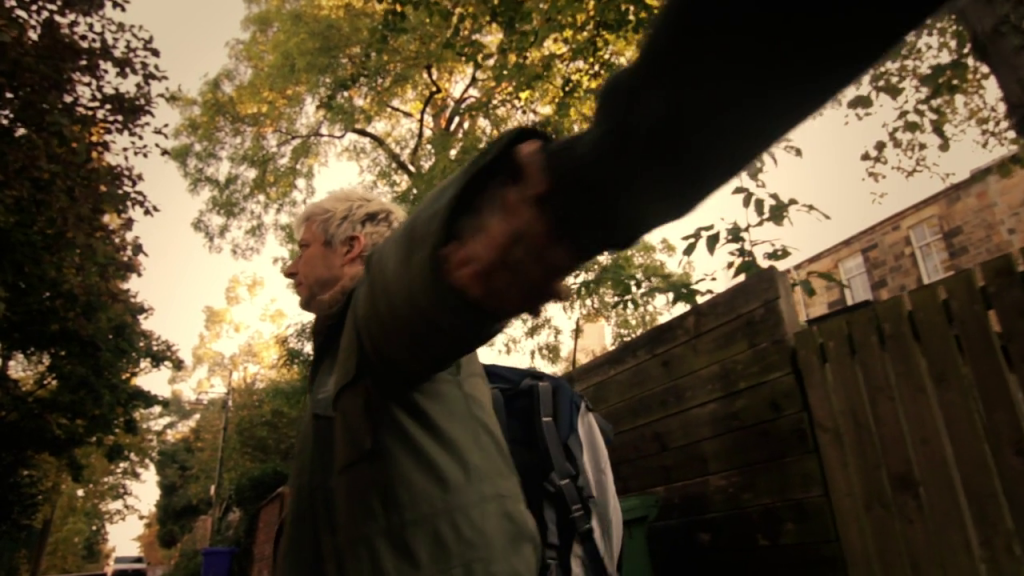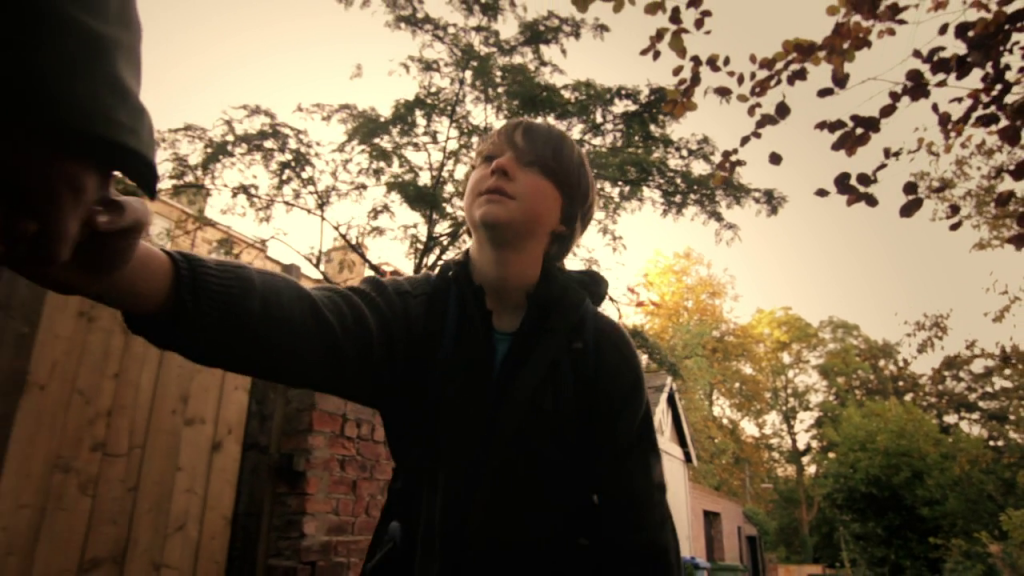 Originally we were planning on having our map completely holographic and having Ramona pinch and pull space apart to reveal it. Our quick tests showed we needed something with track points so we glued some metal brackets to a piece of picture frame glass and that worked great. It also meant we had something physical for Murdo to smash at the end so we made sure to have a stack of spare frames. From that point James set about working solidly on the maps.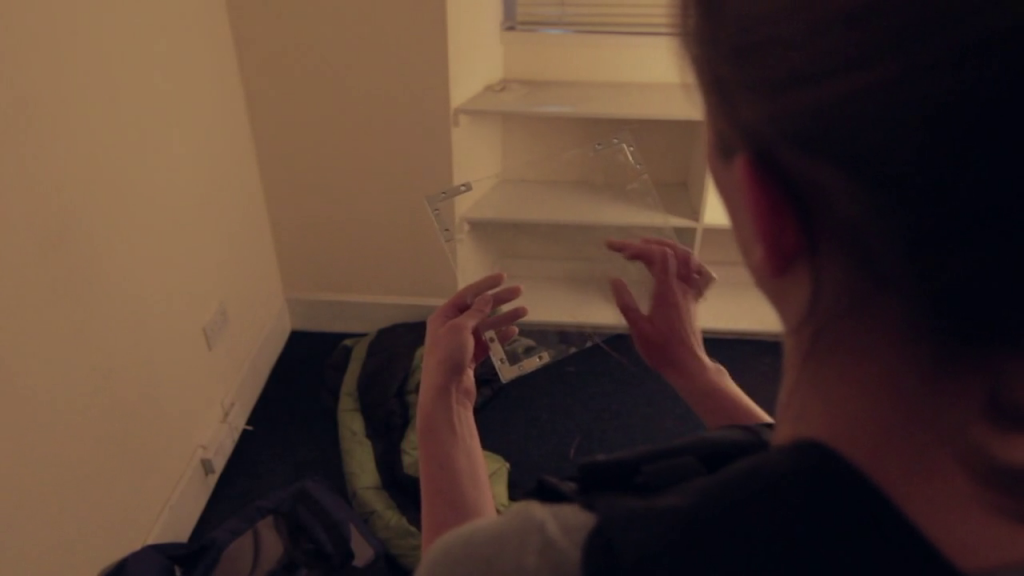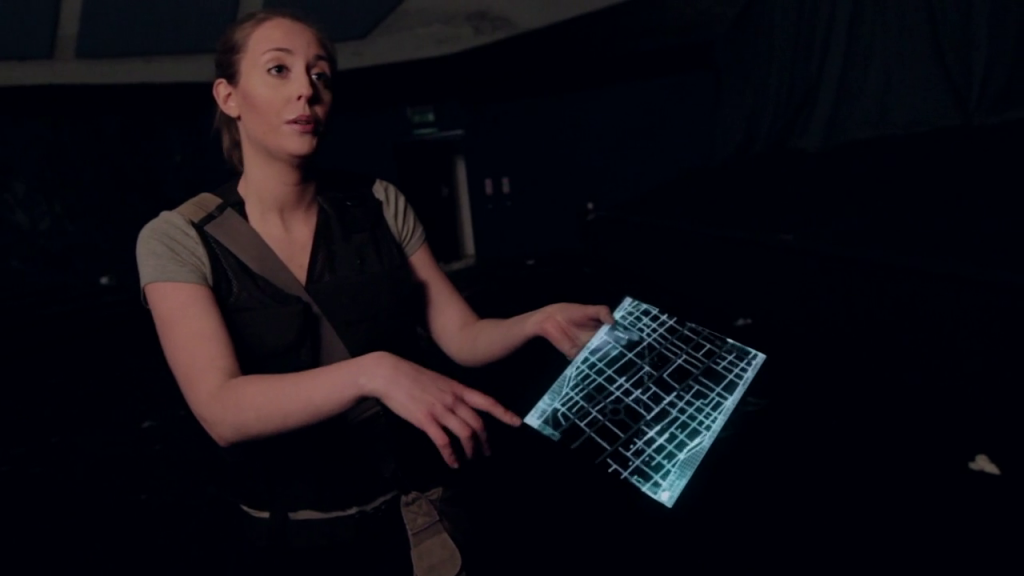 After a mostly sleepless night we started shooting at 10am Saturday morning at the Odeon. We planned the toilet scene first as I had dolly shots in mind and wanted to get used to it straight away. After a scout for the best toilet to use Darren and Stephen got the rest of the crew setting up as Andrew and I ran ahead to scout for the other locations, WWII basement, screens and corridors. At one point, we narrowly avoided reshooting an entire scene when Ramona's henchman (Scott) pulled a toilet cubicle door clean off its hinges. Thankfully Malky is handy with a Phillips' head!
From then on we shot one scene and blocked the next as kit was moved. We also had Stephen run on ahead with helpers to lay track for later stuff while we were shooting the dialogue-heavy final scene. We had a jib set up on some curved track so the camera could dolly back from Malky running into the projector room turning into an OTS which would push through a projector window into the screen below to reveal Ramona and Scott advancing on Liam. Unfortunately when we started losing time that shot was the first to get dropped.
We wrapped in the cinema about 7pm then headed back for the abandoned office scenes which we shot downstairs in our building. Andrew left the shoot to get on with the edit, adding footage as it arrived throughout the following 14 hours. The shoot took all night, mostly because tiredness set in. At one point it took Darren and I over an hour to simply turn on a light because we were so spaced out, but we got there in the end. Go team.
Next Darren and Malky and I headed to The Garage nightclub. We wanted the father and son to jump to somewhere busy where they would get split up. We film Regular Promo Video for the club and they previously let us in to shoot another short film, Burned, so thought there would be perfect. We were delighted they let us back. The main room was mobbed which looked great, can't fake that many extras without a budget, but we had to fight our way past drunk people grabbing us to take their photos. First we got the camera on stage and had Malky crouch down then jump up in the middle of the crowd. Next we had Malky hold the camera towards his face and look worried as I pushed through the crowd pulling him forward and waving an LED toplight at his face. Halfway through someone grabbed his shoulder and shouted 'Malky!', he never found out who. Finally we jumped back on stage to shoot across the crowd and grab the shot establishing the toilets.
We headed back to a corridor in our office building to shoot the opening future shots which were scheduled for the Odeon but got dropped. Stephen and I dumped down a bunch of strip lights and our old friend plastic sheeting to make for a quick set dressing. Finally we moved to a park in Hyndland to shoot the opening scene. We wrapped about 10am, so Malky and Murdo were free to go. We are all super thankful to them and the other actors who stayed up with us for so long.
For the final push I oversaw the edit, well I paced near Andrew to stay awake. Stephen worked on the gunshot and blood effects. James had finished the maps and moved onto time travel transitions and the titles sequence and we all took turns to look for sound effects. Once the cut was locked, Darren did a quick sound edit then graded the footage, it looked awesome but that's probably a whole other blog post. Finally we jammed in all the titles, effects, some final sound effects, exported and ran to the Art School with 4 minutes to spare. We finished so late we sacrificed a 500GB HDD because there just wasn't time to burn a disk. A couple of sounds and graphics got pushed slightly out of sync in the last dash (these have been fixed in our Vimeo version) but nothing too bad. We didn't have time to watch it back let alone fix them so passing over a file we hadn't even seen was very scary!
And that was our 48 hour film.
This has mostly been about the shoot so I also want to say a massive thanks to Fergus who composed all the original music. I called him up last minute on Friday and despite being in Edinburgh, getting rambled, vague notes and replies from me by email and text, usually around 4 hours after he asked anything he sent us awesome music which helped tie the whole film together. And to Omar who recorded all the sound in the Odeon. Sorry our super quick mix didn't do your recording justice. Also to everyone else I have failed to mentioned by name. You know who you are, you all did great. Plus thanks again to Sam for organising the Glasgow 48 Hour Film Project. We can't wait for next year.
Bring it on.