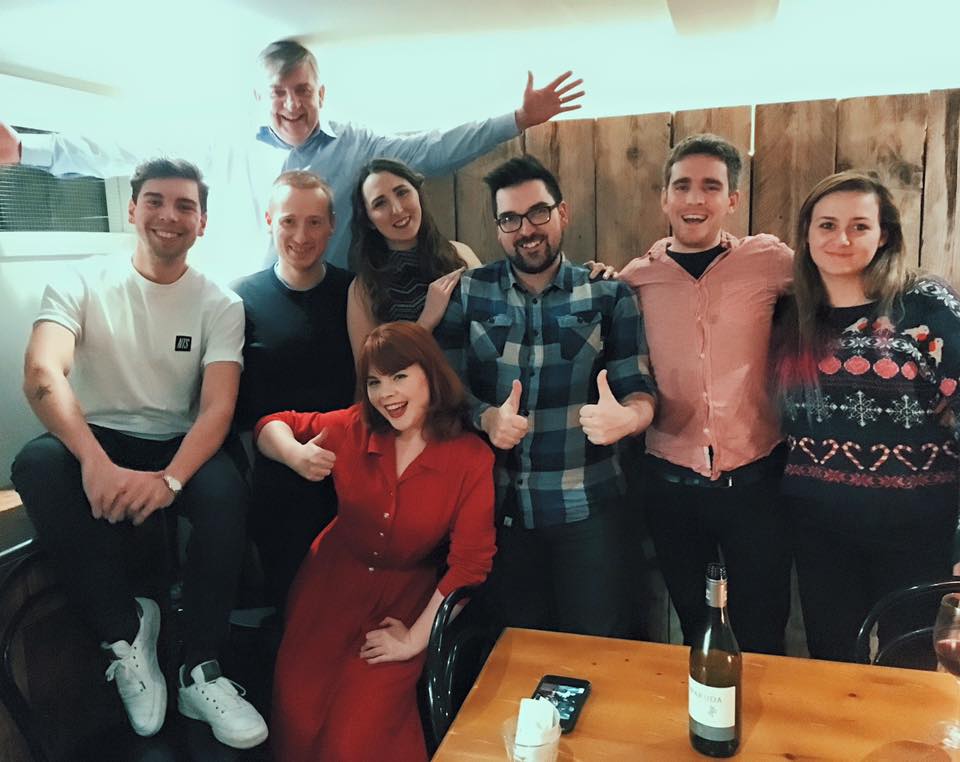 The past year has been an eventful one for Production Attic due to a number of reasons. We've had a few of our staff members leave onto pastures new, additional employees have joined the team, we've been working on exciting new projects and have had the opportunity to work closely with some of our returning clients.
The initial changes within our workforce occurred within the first few months of the year, when two of our beloved staff members left to take on new positions. Emily Benita, our Production Coordinator (who you may have spotted from many of our informative vlogs), left to pursue her lifelong dream of writing for film and television. We're pleased to share that she is now storylining for Scotland's only current home-grown soap opera – River City. Our second member of staff to take on an exciting new role was Joseph (Joe) Thomas, our Senior Video Producer. Joe, with his keen eye for detail and talent for editing, was offered an exciting opportunity as a Video Producer at Rare –  a British video game developer located in Leicester. We're so proud of these two for going from strength to strength and have no doubt that they are going to achieve great things in the future!
Following on from this, we've had three innovative employees join the business in the past 8 months. The first new member to enter our team was Rachel Wilson, our current Production Coordinator. Rachel joined us after spending some time teaching English in Barcelona but her real passion lay in the media industry. With her creative flair and a love of all things cinematographic, she entered the company with lots of ideas and a drive to bring the business forward. She now facilitates all projects, whilst focusing on our social media strategy and working closely with clients to make sure things run smoothly – from the initial stages of pre-production until the video is signed off.
Second to take on a new position at Production Attic as a Video Producer was Matthew Murphy. With a background in sound engineering, he has effectively applied his technical skills to many areas of the business. Although thrown in at the deep-end after Joe's departure – and with big boots to fill – Murphy has successfully tackled any challenges head-on with his shining personality, positive attitude and methodical approach to work. Now an integral part of our workforce, we'll be sad to see him leave the team in January to work in Australia for four months – but we're already looking forward to his return.
The most recent employee to join the team was Gary Copeland and despite only joining the company a few months ago he has already made a positive impact on the day-to-day working environment. His charismatic charm and engaging presence was felt from the moment that he stepped into our office to take up the position of Account Manager. Although never having worked in the media industry before (let alone in video production!) Gary has been able to think on his feet and surprised us by bringing a fresh outlook into the workplace, but it wasn't until his hilarious lead role in our 48 Hour Film Project short Lamb to the Slaughter that we realised that we have a very talented actor on our hands as well. Gary will be featuring in our numerous upcoming vlogs in the new year, so be sure to keep your eyes peeled!
In addition to numerous changes within our workforce, we've had the opportunity to work on various interesting projects – ranging from corporate training videos to shooting a large-scale obstacle course within hundreds of people in attendance. This year we've been working closely with some of our regular clients – Wheatley Group, League Against Cruel Sports and SCLD – to produce various testimonial videos as well as helping to create a video to raise awareness of Learning Disability Week 2017. The Equality Network returned to work with us once more to produce their "Intersectional Identities" film series – which as an incredibly insightful project to be a part of. We're also looking forward to finishing off a long-running series of videos for The Science Museum.
It's important at Production Attic that we're doing what we do for a reason and working with charities is one way to be involved in something more meaningful. We pride ourselves on being able to produce content for those who are passionate about what they do. Consequently, we believe that making videos for people and organisations that want to make a positive impact in our society allows us to give a platform to those who are marginalised or disadvantaged.
With regards to new projects, we've been working on a feature length documentary on the subject of Glasgow's architecture. This is something that was cannot wait to share with you all next year, but it has definitely been a real eye-opener and allowed us to see a side of Glasgow that we never knew existed. Production Attic were also given the chance to film Total Warrior in North Berwick – a challenging experience for our newest team members but they enjoyed every minute of it.
We can't wait to see what 2017 has in store for us!